Discussion Starter
·
#1
·
For the last 5 years I have only shot targets at 100 and 200 yards as that is as far as the public range goes.
I have had some good shooting at 200 yards but for the last 1.5 to 2 years I haven't shot at 200 yards. My eye sight suddenly changed for the worse in 2014. All my rifles are now zeroed at 100 yards. But recently I have had some days of 20/20 and 3 weeks ago able to ring steel at 300 yards in a 30 MPH wind, loved it.
So today I took the 2 hour orientation of a range 20 minutes away that goes out to 880 yards. I am going to shoot my AR15s and AR308s in the Ground Hog Bench rest competition, their matches are either 200/300 or 300/400 yards.
Since all my ARs are hand built I have to shoot in the Custom category against F class rifles shooting 6MM rounds. My 308 Gold Medal Sierra Match King rounds are $1 each and have a 25 inch drop at 400 yards with a 200 yards zero.
As most of you know I have built a LOT of lightweight ARs, the 6.8 is down to 3.2 pounds and the AR 308 down to 4.7 pounds.
But years ago (before adjustable gas blocks for me) I used an A2 buttstock with a Tubbs adjustable butt plate even had a huge rubber pad.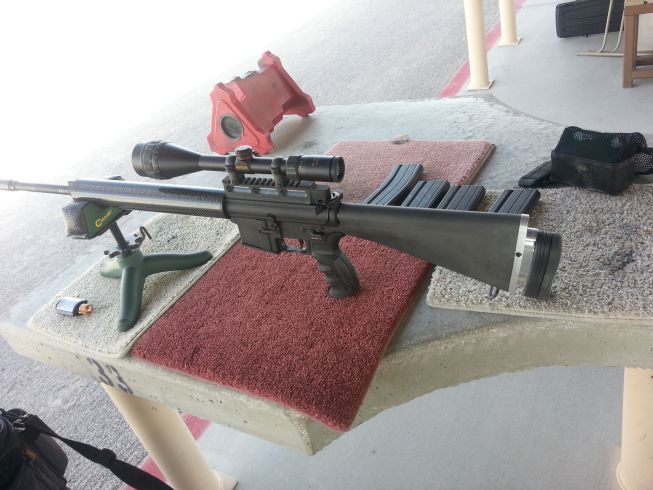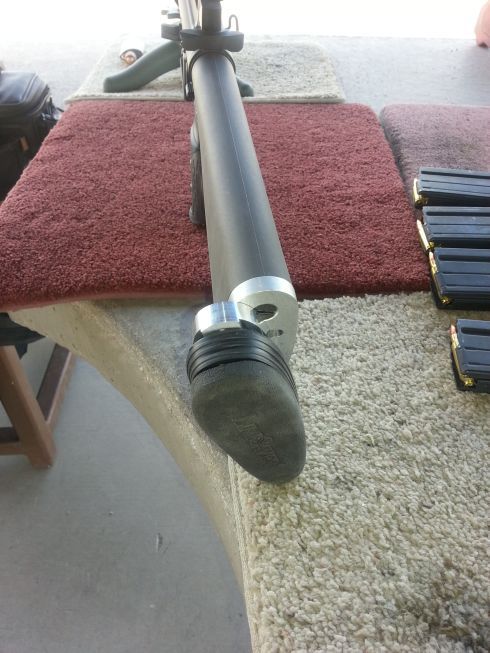 Thinking of adding a lead weight of 3.6 pounds to those stocks. I can switch the A2 heavy stock to different rifles in seconds if they all are using a rifle buffer tube. So the stock could be on my heavier (5.3 pound) Juggernaught Tactical 18 inch 5R barreled 308, or my 204 Ruger with 18' Wilson Combat barrel.
Building an AR 15 with H's 6.8 SPC18 inch 5R rifle gas system now. It has shown very tight groups so far with cheaper ammo. I still have some 140 Bergers from SSA, and can easily get more bullets (have 100).
So I will be pushing 10 pounds with scopes that are all higher powers. All the Vortex are 24 and the Leupold AR is 18 power.