I have been watching my cellular cameras at the deer lease last week..
Found the hogs coming to the feeders between 8pm to 4am, random times.
Until this trip, I have had shots mainly at boars only. This hunt resulted in three sows,
with two ready to drop a litter - soon.
-
We are covered up with coyotes - fawn killers. Working on reducing that population.
The usual hunting path for yotes is through the creek bottom / mesquite trees. When on the move,
the yotes seldom stop where convenient for a shot. I found using an electronic female howl would nearly
always stop them in their tracks. Trigger time - quickly..
-
The easier option is a shot at one of the dead hog bait piles (265-498 yds). Trigger time - relaxed, wait
for the broadside profile, and squeeze.
-
18" AR-15 30 Herrett AR, Cavity Back 125 gr MKZ in .308, 2750 fps.
Trijicon IR Hunter MK3 35mm thermal scope, Rugged Surge 7.62 can.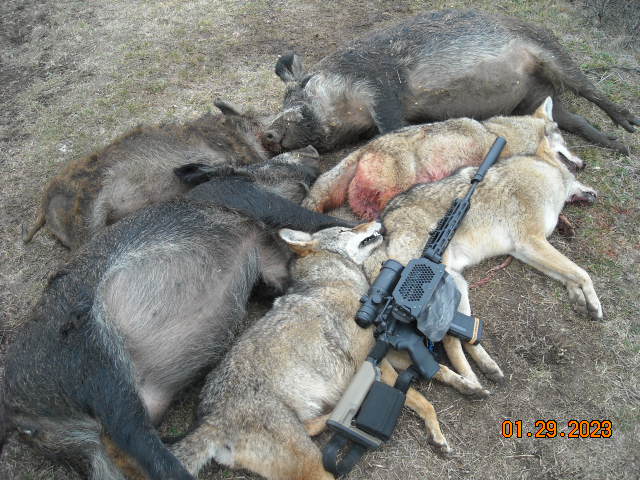 -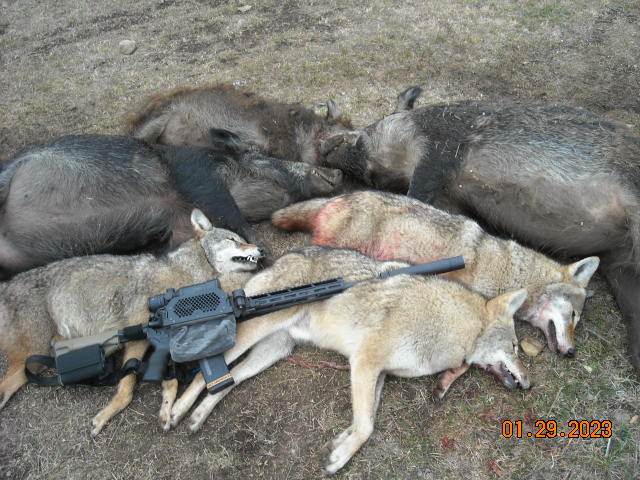 Dennis