Headed back to the 'Deer' lease to work on further reducing the hogs & dogs population.
I stayed in the blind for two full nights, arriving before the feeders 430pm afternoon run, until after the 700am run next morning.
-
Running my 30 Herrett AR (TAC 30) 18" AR Performance barrel, and Trijicon MK3 35mm thermal, with Rugged Surge 7.62 suppressor.
125 grn Cavity Back MKZ bullet, over SW Blackout, 450 primer, in S&B or old SSA brass.
* Maybe Eric at Blackstone would consider producing/selling Harrison's TAC 30 barrels. *
First night was rewarded with two boars, one alpha sow, and three yotes down.
-
Both boars drilled & dropped at 115 yards.
The sow was leading a group of 7 pigs, and paused at the hog bait pile (265 yds) for the yotes.
Sows last mistake,, she caught a 125 grn MKZ in the neck and folded. The remaining six scattered to the mesquite cover and stopped to see what was holding their leader... unfortunately no follow-up shots due to tree obstructions. Dammit.
This tactic normally works well in wheat fields with successful shots on secondary pigs.
-
First Yote arrived at the hog bait pile (265 yds), and presented a broadside view, trigger squeeze and first dead yote of the night.
Second and third yotes bypassed the hog pile, to move through the mesquite in the creek bottom.
One paused at 165 yds, sometime later the last stopped at 150 yds. Both drilled with the TAC 30.
-
New toy picked up at the Dallas Safari Club the first week of this month:
Pulsar Axion 2 XG35 laser range finder is a huge step up from my 7 year old Pulsar thermal scanner.
The Axion 2 scanner lets me see detail through brush that my older thermal would bypass.
Great new toy/tool - and the hogs & dogs hate it !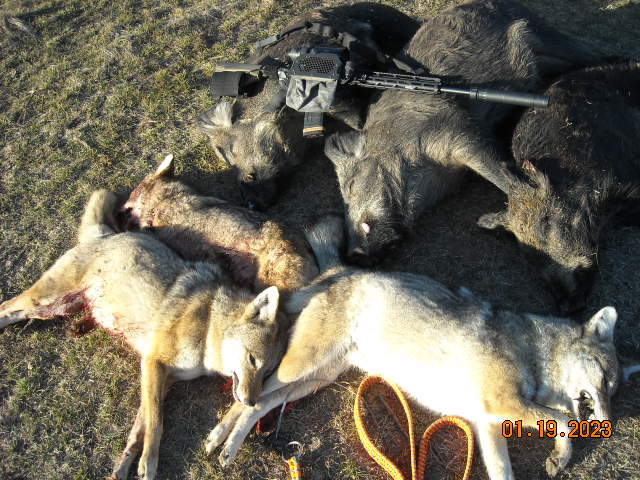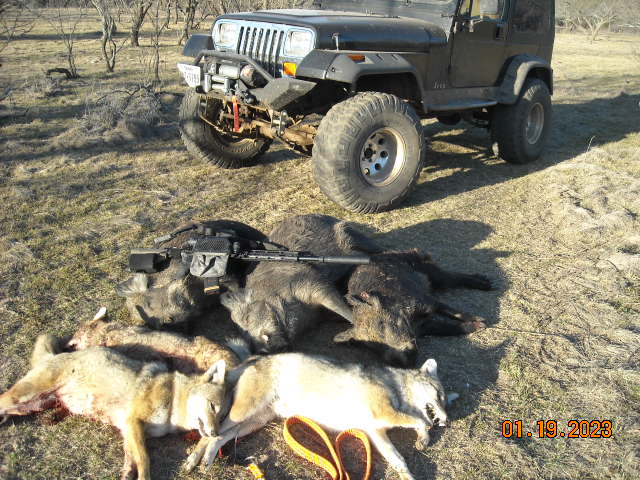 Second night - single boar dropped at 115 yds.
One yote paused at 280 yds... held a little higher than my 265 yd shots. Rolled him, but he got to his feet and ran off squealing like a puppy. No recovery or photo - so I do not include in kill stats.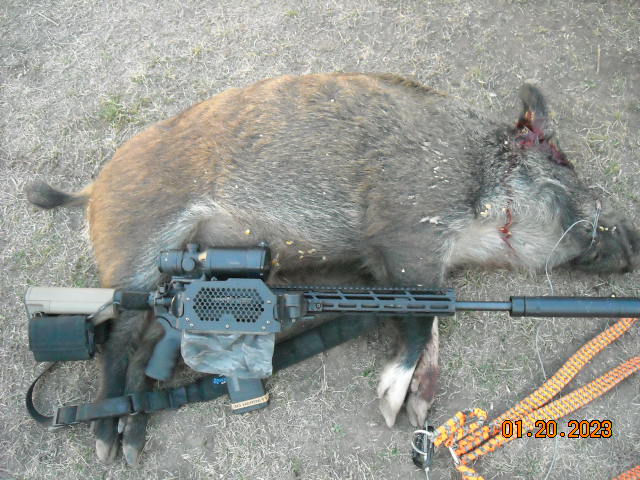 Dennis