Discussion Starter
·
#1
·
I guess I started at the muzzle end for this build since the only thing I have so far in 6.8 is an AAC M4-2000 silencer on order with a 6.8 bore. It will probably be close to 6 months before the dealer gets the silencer in and the paperwork clears BATF&E so I have ample time to create the host.
When I decided to add a 6.8 SPC to my collection, I assumed I would use a stripped RRA lower that I already have to build an AR-15 with a 16" barrel. I started to order one of the SAM-R uppers from AR Performance Friday, but decided to first consider building a bolt action rifle with a 16" barrel.
My ears already ring from driving a tractor without a cab during my early teenage years, thus I refuse to shoot a rifle without some sort of hearing protection. Since silencers are legal for hunting in Arkansas, I have been adding silencers to all my weapons so that I don't have to wear hearing protection. The main disadvantage of a silencer is the length and weight it adds to the weapon. The fact that the 6.8 SPC works well with shorter barrels is what got my interest for use with a silencer.
My first AR-15 was this .300 Fireball with the 16" barrel shown. The silencer made the weapon way too long for my tastes so I turned it into an SBR with a 10.5" barrel.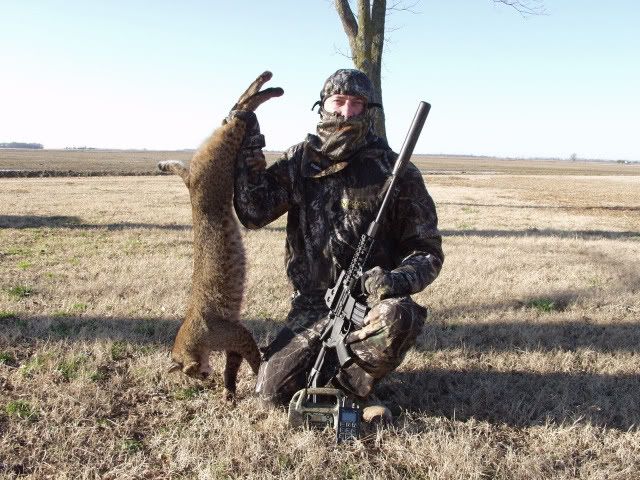 I load the .300 Fireball to subsonic velocities and the 200 grain Sierra Match King bullets don't expand. It actually kills similar to an arrow and, if I don't make a near perfect shot on a predator, I have trouble tracking it. I decided to build a short barrel weapon with more stopping power and thus ended up with this T/C Encore in 7mm-08 with an 18" barrel.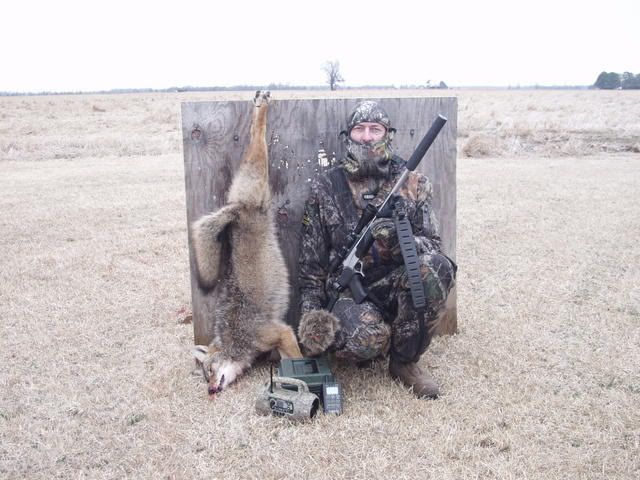 My thinking was that the 18" barrel on the Encore would be more like a 15" barrel on other weapons since there is no action and the barrel starts at the back of the frame. I made the mistake of ordering a heavy barrel contour and the weapon turned out to be too heavy to suit me. I sent it back to Match Grade Machine and paid to have it cut down to 16.5" and fluted, but it is still a little on the heavy side.
I hunt whitetail deer almost exclusively with a bow. My future 6.8 SPC will be used mostly for predator hunting, mainly coyotes and bobcats. I am not as good of a shot as some that I read about on the internet and therefore only shoot out to a maximum of 300 yards. Most of my shots are closer to 50 yards.
I want to stay with a 16" barrel for favorable performance from the 6.8 SPC. I had also rather not shorten the barrel of this weapon to less than 16" because of the notification requirements when you cross state lines. I am concerned that the AR-15 build will be a little long and heavy with the silencer mounted to suit me. I am leaning toward trying to come up with the lightest weight 16" barreled bolt action rifle that is practical. Since the 6.8 SPC should not have much recoil and the silencer will null about 50% of what exists, a light weight bolt action weapon should be a practical solution.
Anyone done this or have any ideas for the light weight bolt action? Anyone want to comment on the weight and length of their AR-15/silenced weapon?