Discussion Starter
•
#1
•
I just received and installed a minimalist rifle-length stock and a handguard from Smoke Composites on a new 6.8 light-weight build. I had asked for a custom length and the John at Smoke Composites was happy to build it at any length! More on that later...
What fine pieces of artwork these are!!! The finish is perfect and they fit like a glove. Even though you can hear the spring inside the stock when pulling the charging handle back (just like an aluminum one), there is no TWANG or other plastic sound when firing. With such a light stock, this puts the center-of-gravity a bit further forward and makes this light platform very comfortable and balanced. I was concerned about the stock snagging on clothing so I put on my hunting coat and put the rifle up and......no snags using my usual motion.
The handguard attaches to a proprietary barrel nut with 4 steel socket cap screws (I wish these could be countersunk...). Looking at the business end of the handguard, it appears the fiberglass tube used for this handguard is quite thick. It's not. What you are looking at is a thicker band is built into the very end of the handguard to give it more rigidity. It is only the last 1/4", or so. The rest is MUCH thinner but plenty rigid; I can't squeeze the middle of the handguard and tell that it is moving at all.
So, if you are considering one of these handguards, and I strongly recommend you do, order the handguard so that it either completely covers your gas block (plus 1/2") or ends just short of your gas block. Otherwise, the end of the handguard may not clear your gas block. I installed my handguard over a new SLR titanium adjustable gas block. The handguard touched the top of the gas block. I like the look of a partially obscured gas block so I took a few minutes with a dremel and relieved that reinforcing ring to accomodate the gas block. No doubt the handguard end has lost some strength but it still seems plenty strong and won't deform when I put the big squeeze on it!
What great products these are from Smoke Composites!
Photo showing partially obscured SLR gas block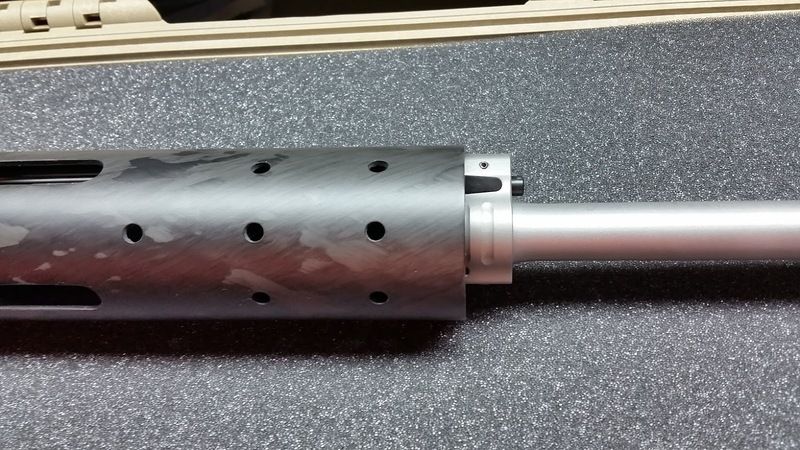 Photo showing relieved ring to accommodate gas block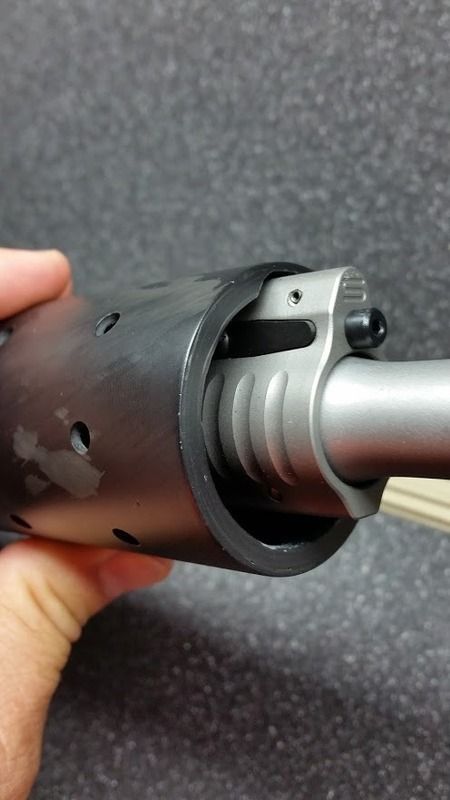 Completed Rifle showing stock and handguard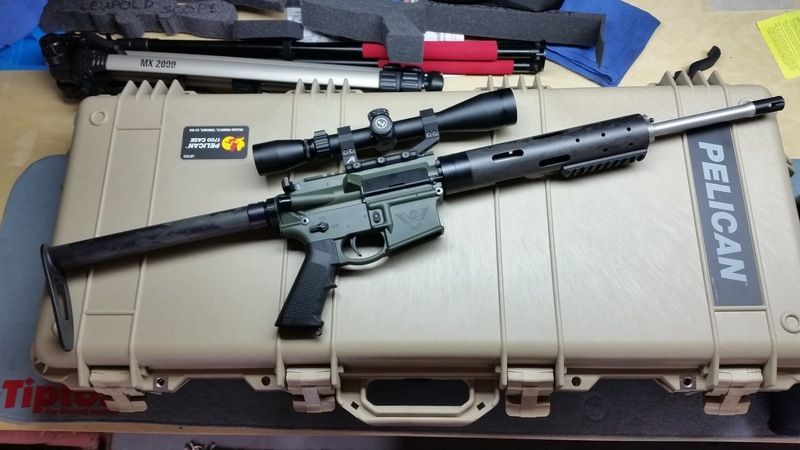 Enjoy your weekend!
Garland in VA