Discussion Starter
·
#1
·
Being well versed in 1911/Glock handguns, don't have any first hand experience with the J-Frame Smiths. A lady co-worker asked if I could give her some advise on getting her 1998 (purchased new) S&W 642-1 back in original condition. Seems she shot it a few times, then went through a divorce. Put it away in the original foam lined case, and now wants to put it back into use.
My research found that it has an anodized aluminum frame and stainless cylinder and barrel. Appears that over the years, the anodizing has become corroded as I've not seen this before: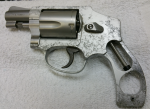 The stainless cylinder, crane, and barrel look fine. Removed the side plate, and internals look fine also. But, I'm thinking the frame will need re-finishing.
Any advise would be greatly appreciated!