Discussion Starter
·
#1
·
RIA, M1911 A2, Pro Match Tac Ultra, 10MM
Model: 52,000
HC Mag: 16 + 1 Round-
Fit and Finish is excellent
Average Trigger pull: 4.5lbs
6" stainless bull barrel and guide rod
AMBI SAFETY
From Armscor's site:
The PRO Match Ultra HC 6" is a target grade pistol ready for competition right out of the box. Built by the master gunsmiths in the Rock Island Armory Medallion, it's chambered in 10mm with a 16-round capacity and adjustable LPA rear sight and high visibility fiber optic front sight. It also includes a skeletonized hammer and factory 4- to 6-pound trigger with adjustable over travel stop. Comes in a fully parkerized finish with G10 grips. Add a full length picatinny tactical rail and the Pro Match Ultra HC is ready for any anything.
She can definitely out shoot me.
But I'm happy considering the following:
1. Hornady 180grain XTP bullets average velocity 1360FPS
2. Focused on not shooting my chrony
3. Not use to a brass catcher mounted on a picatinny rail, but it caught all but one piece of brass.
4. I. kept engaging the enlarged safety with my thumb, I started resting my thumb on top of the safety while trying to avoid the slide.
On my next range trip, I'm going to take some sand bags and bench rest her to see what my (and the pistol) limitations are from 25 yards and beyond for hunting. I'm taking my Primos shooting sticks too.
All excuses aside, here are the first ten shots:
As time went on she got a little heavy (3.6lbs loaded, not counting brass catcher) and I got sloppy with trying double taps: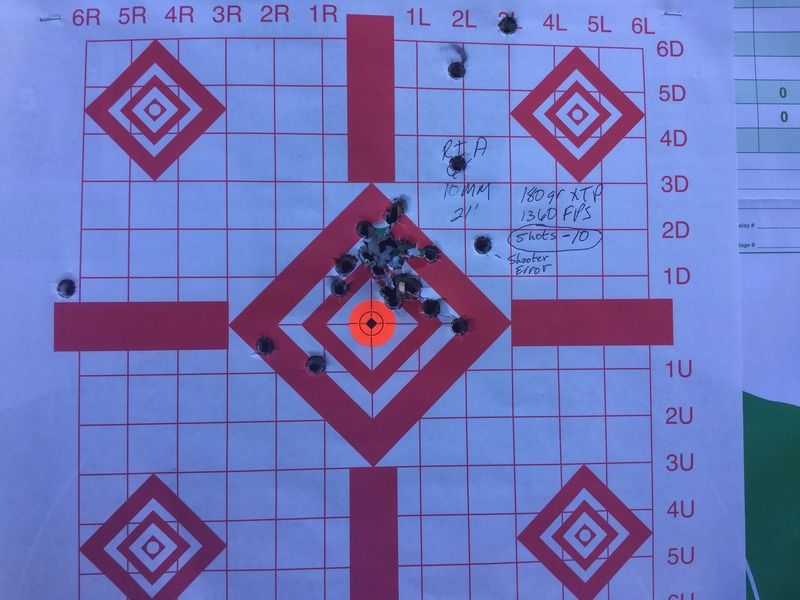 My hunting load data:
Light swipes and minor flatting of primers.
Bullet: Hornady 180 gr XTP HP
Case: Remington .985"
Primer: WLP
Powder: AA# 9 - 14.5 grains
O.A.L: 1.260"
Velocities: Average 1360fps