PSA lower ALG defense QMS trigger and JP low-power springs
Hogue grip and Magpul stock
Ares Armor upper with ARP 20" target crown and ARP Superbolt
Syrac Adjustable gas block and ALG Defense rail
Nitrex 3.5-10x50 on SWFA mount
First trip to the range for shooting my new 6.8 was terrible. So terrible that I'm not even going to link the thread I posted about it. but I learned A LOT in all aspects of my loading and shooting. My groups were disappointing but I've made changes and am on the right track.
Second trip to the range reinforced one lesson that didn't quite sink in from the first one. go slower. I was still way too ambitious with the amount of ammo I loaded and the time I had. Overall, my average groups went down in size by about 50% switching to properly sized brass and hand-weighing charges.
Shooting from a bipod/sandbag on 2nd trip. The second trip was still using pulled Federal primed brass... full-length sized with a Hornady die that didn't bump the shoulder back any from stock.

Also, I learned that I either need shooting lessons or I need to do my testing from a sled. My groups are all over the place laterally. I know that a significant amount of error is from me, which leaves me with hope that the ammo I'm crafting is actually way better than I can shoot it.

Chrony Tip: Always carry a spare battery. Ensure you're shots are in the middle of the device and not cheating towards an upright. A ShootingChrony does not work in the shade.

Packing Tip: Make a packing list. Your chrony tripod is useless if you left the foot attached to your camera at home. Then you end up Macgyver'ing something together out of the spare-pile-of-broken-target-stands. The list should be extensive, detailing every tiny little item you don't want to forget. Take it to the outside of your rifle case. Pack everything the night before.

Scheduling Tip: tell your wife you plan on being home 2hrs AFTER you really plan to be home, so that when things run late, you're on time, or you're a hero because you're home early.

REMEMBER TO HYDRATE! If you're headed to the range during the summer, I recommend a gallon of water for a 5hr session.

I think I'm leaving a little on the table with the 110gr ProHunter seconds. For sub 300yd hunting, even my worst groups will work for accuracy, but I'll be glad when I've shot them all so I can see what some 1st quality stuff will do.

With the 110gr TSX's, I bought those when SPS had their killer sale earlier in the year and think the gun just doesn't like them as much as the ProHunters.
IN GENERAL, for the same amount of powder, the TSX's are about 100fps faster, some more/some less. The TSX's are longer and intrude into the case more, so I assume build more pressure which equals velocity.

RL-10x and A2200 are almost identical for velocity, and both are about 150fps or greater than H322/H355.
H322 is about 50fps faster than H335

Here is the stuff for my SECOND RANGE SESSION:

More accurate as they got faster, but TOO HOT! The first two groups are fine, but I was getting primer blow-by on the last 2 strings.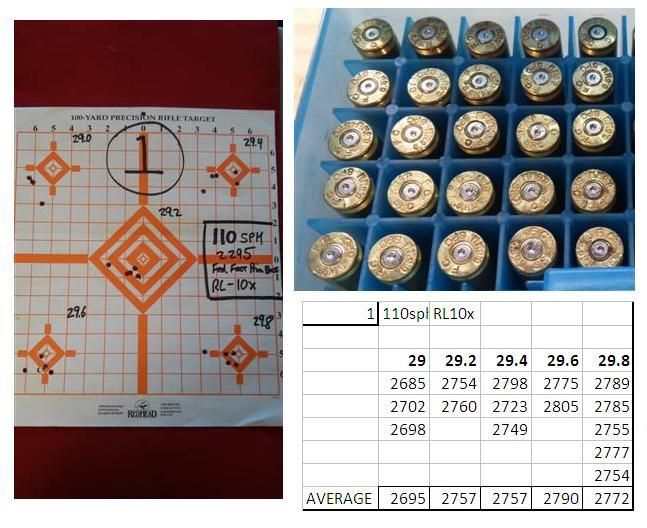 I like... the velocity was up there too. 29.7gr was very accurate on my 3rd range trip as well. Also a perfect example of WHY THE HELL AM I SO ERRATIC... first five strings area all left, and last 2 are well right?
Again, I got primer blow-by as the pressure went up. 28.9 grains worked very well on my 3rd range trip.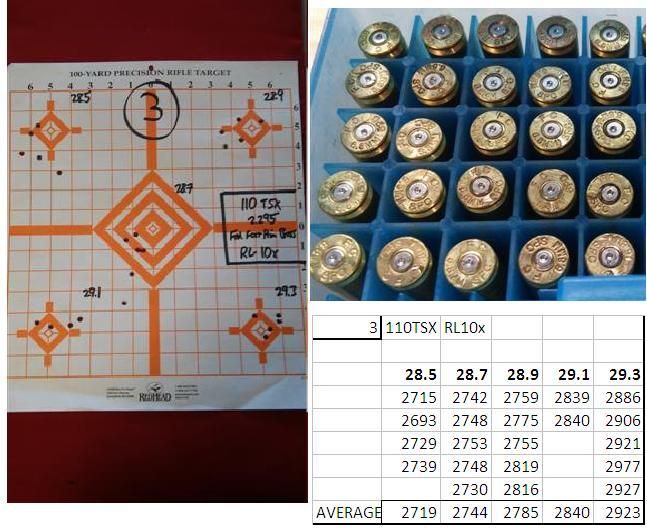 Several of the hits on the center bullseye should have been top-right... my bad.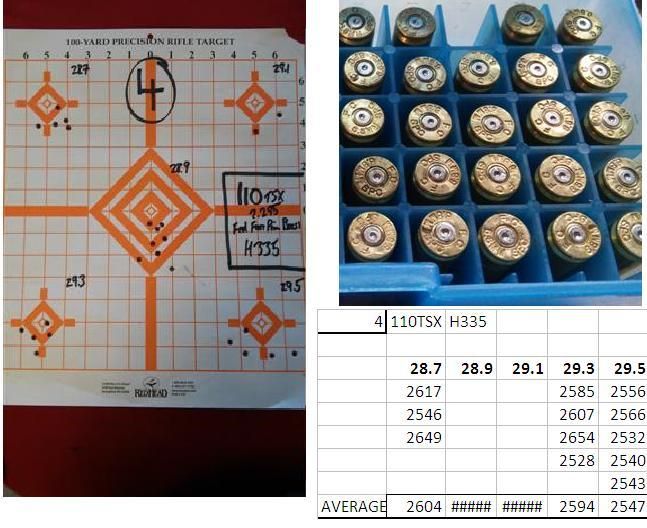 The good, the bad, and the ugly.
28.4gr grouped well on my 3rd range trip... will revisit this bullet powder combo.
All over the place.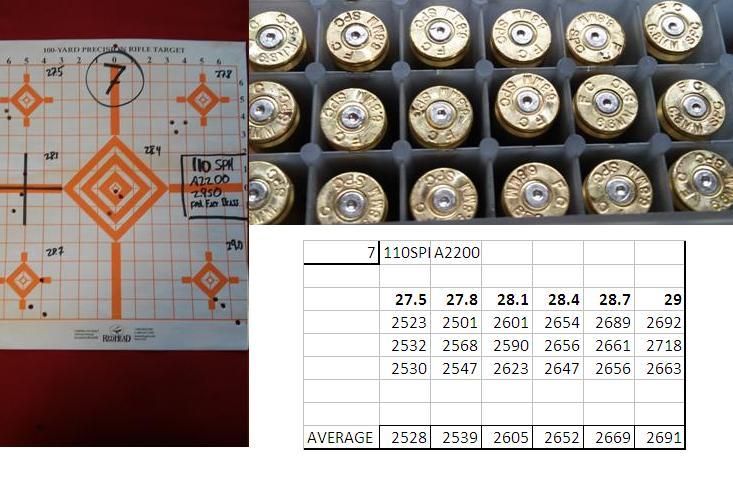 YIKES!!! Although by this time my eyes hurt and I was starving.

<o
></o