I guess it all depends on ones frame of reference and experiences. We have found the Aimpoint 3x magnifier (NOT the cheap EOTECH 3x using glass from the PRC) to be a superb addition to our weapons.
Red-dot sights (RDS) are absolutely wonderful for close fighting and shooting on the move. We love the ability to check zero by simply flipping up BIS at the start of a shift. With Aimpoint RDS's worries about battery life are a thing of the past--turn the optic on, then change the battery when you get a new patrol vehicle a few years down the road. However, for the last several years, it has been apparent that except for pure entry/CQB roles, RDS's did not allow adequate target discrimination at longer ranges:
Hey, is that a cel phone or a pistol in that guy's hand across the parking lot there…
The Aimpoint 3x magnifier helped with many of these issues, but the mounting options were never ideal and changing between 1x and 3x was too slow for dynamic encounters potentially involving use of lethal force. We experimented with ACOG's, settling on the 3.5x TA11 as the favorite-these proved fantastic at longer distances, for example from 50-200 yards while sitting on a perimeter, however while useable with some effort at closer ranges, the ACOG's basically were a significant compromise inside 25 yards and especially indoors doing entries. Low power variable optics offered a possible solution--the clear best choice being the 1.1-4x S&B Short Dot with the Leup 1.5-5x a good default option if funding is more limited. The low power variables were great at longer ranges, but suffered from poor battery life, eye relief issues, and decreased field-of-view.
Mark LaRue provided an outstanding solution with the LT649 Pivot mount for RDS magnifiers with 30 mm tubes, like the Aimpoint 3x. An Aimpoint RDS in a LaRue mount with an Aimpoint 3x in a LT649 to the rear is our favorite optic set-up on 10-16" carbines intended for use in the 0-300 yard range.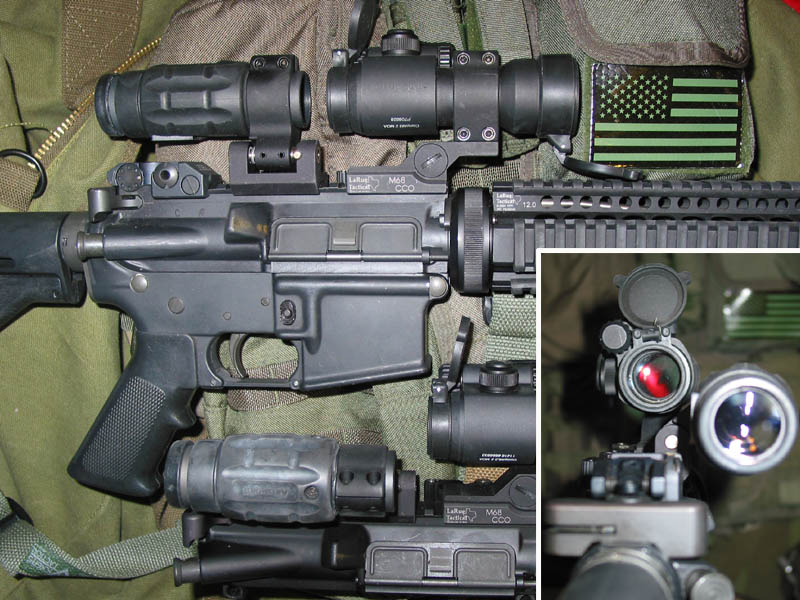 Flipping the magnifier up and down in the rugged LaRue pivot mount is lightning fast-just grab the magnifier with the weak hand, pull back to release the detent, and flip it where you want it. It takes far longer to read about it than actually do it. To date, the LT649's have not proven to be snag prone or fragile and no malfunctions have been noted. Flip-up BIS like the Troy remain fully functional when the LT649 is in the down position.
Below are photos of Aimpoint 3x/LT649's mounted on a couple of 6.8 mm carbines: