Discussion Starter
•
#1
•
I've been collecting data on brass sales on this forum for almost as long as I've been a member here. It started when I realized how valuable my brass was and how I should be saving it, selling it, and putting it back into factory ammo. I started logging brass sales as they came up on the forum to make sure I was asking a fair price for my brass, and even though I've been reloading for some time now, I've continued to track all the sales that are publicly listed on the forum. I've popped into a number of threads when people ask what there brass is worth with the running average I've had at the time. Just recently I took the time to switch my data over to a histogram so it's easier to look at and I'm putting it up here for members to take a look at. I know, its nerdy, but I feel like it will help out others as they decide how to sell their brass.
ALL brass sales are not shown in the graph as I've excluded multiple fired brass, prepped brass, brass that was bundled or when the seller didn't specify manufacturer. There have been many more sales in the EE, Federal brass for instance, but a lot of those were processed and resold for profit, so they don't fit the purpose of this data series.
If there is interest, I'll update this from time to time, but as can be seen, things have been holding pretty steady over the last four years even when LWRC flooded the market with FC brass, and conversely, even after Sandy hook when the market was tight and inflated.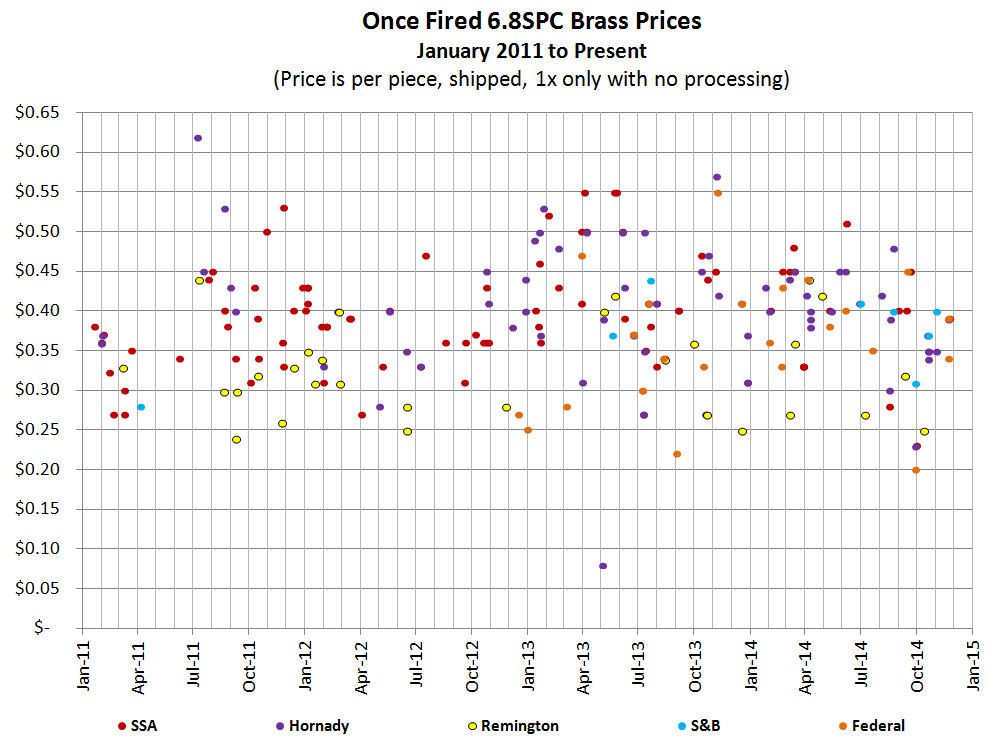 ​
Running averages as of OP...
Hornady- $0.40
SSA- $0.39
Sellier & Bellot- $0.37
Federal- $0.36
Remington- $0.32
(I wasn't sure where to put this. It seemed like the EE was most related, but there isn't really a spot to put it... general discussion maybe? Not sure, but I'm open to comments and open to having it moved)