This past weekend was one of the best hog hunts in recent memory. I had a chance to take a friend from JET suppressors on a night/ Thermal/ HELGA hunt. I actually got to shoot, since I did not technically have to be the "guide." He is a skilled NVD tactician, and ex-Mil., so we made a very good team. He brought my new "Warthog" model 6.8 suppressor, and this was our first test. It uses a muzzle brake mount and the blast baffle is designed with a series of cups embedded within in it, so that the spinning of the gas, and then the diffraction of the blast baffle acts like 2 or 3 baffles. This can is only 5.5" long and it makes carrying the SBR in the truck MUCH easier. The OAL of the barrel is only 17" with this can, versus 21" with the other can that I have. Huge difference. The suppression is equal to that of the 9" long can.....amazing.

So, we set out and blasted our way through several packs of hogs, killing 6 the first night. First pig was in the 300 pound range, shot with his 5.56, from about 30 yards, right out the passenger window, with 60 grain TAP. It was DRT. He has a Warthog in 5.56 on his SBR. It is amazingly quiet in the 5.56 version. He is holding HELGA. The bitch was in a good mood that night.


We move maybe 250 yards farther down the road (you have to love suppressed rifles), and see two more in the Milo. I get into the bed of the truck, and my friend is spotting. They snap to our presence, and start running. By the time I get off my first shot, they are already 150 yards away. One sow is making a big parabolic arc, and I lead it about 1/2 pig, swinging like its a Teal crossing through the decoys....pop....pop.....po- THUD.....REEEEEEEEEk! It squeals....we chuckle. So, we take the thermal and find the dead body that way, because you will not likely find one laying on its side in grass, without it. The TAM-14 is an awesome machine, Here is that pig. If you look at the HELGA, you will see a little stain of blood behind the left shoulder. I actually hit it 3 ribs back. Understand, this is not usually a great place to hit a pig, but the 80 grain GS bullet, going about 3015 FPS from my WOA 12" barrel, went clean through at 220 yards, and dropped it in its tracks....DRT. Frggin' amazing for a 12" AR.

The next bunch was farther from the truck, so we snuck out from the vehicle after seeing the heat signatures on the Thermal. I identified them with the D-740, and we walked in slowly. Once we were within 75 yards, we opened fire, killing one rotisserie-sized choate instantly, and then as another sow came by, we both drew down on her, and somersaulted her, in a cloud of dust. YEAH BABY!

We shot a couple more at a fenceline, but one ran off. We think it was hit in the hip or side with 5.56. We all know how that goes. If you have the neck, or head shot, yes, 5.56 works great. It is when you have to shoot at them running, or cannot place the bullet that you start losing them, with 5.56. Why do I care? Because I need the pictures for you guys!!! Every single pig I hit this weekend, with 6.8 X 43 mm , went down on the spot, and never got up. You'll hear more about those in a minute.

Here's my friend's third pig. He was shooting well that night, mostly using the helmet mounted PVS -14 and IR laser.
**OK, so change gears to Saturday night. My friend had to go back to work, so I decided to go out by myself to practice a little technique, and to work with the gear. This is how I hone my skills. I will admit, it is a little spooky walking up on big pigs in the middle of the pitch blackness, by oneself, especially when you are in a maze of hay bales. But, if you haven't done it, you haven't lived. Check out this picture. Imagine 15 pigs out there with you, some of them 350 pounds, and you are trying to sneak up on them
. When you shoot, they are going to run in every direction, and if they see you in there, its entirely possible you will get charged. Have you ever tried to climb a hay bale? Not easy: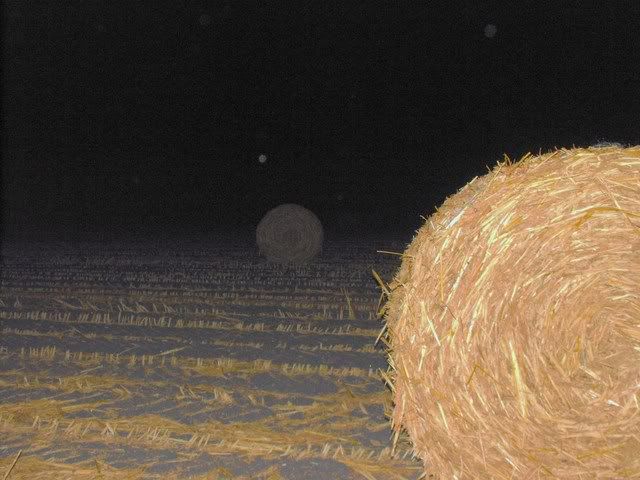 The first group, I see on the Thermal. I stop the truck and turn it off. I get out and when I cannot see retinas, reflecting from the IR light of the Torch, I know they are pigs. Off I go with one extra magazine. On this run, they are hand loaded 110 grain TTSX's with 29.5 grains of RE10 X. There are about 6 pigs that I can see, and maybe another 6 that I can't, because of the hay bale maze. I get to about 60 yards, and realize there are 3-4 behind me, a little to the right, and they are looking at me like WTF?? One is a huge boar and he's starting to stamp his front hoof.....S#&@!.....I am surrounded. Oh well....I drop to one knee, and shoot the boar right through the shoulder blades....just to show you that these bullets always go clean through, and knock them over.

Suddenly........a Starburst....pigs going everywhere, including almost between my legs. I shoot another one running right by and knock it over, 10 feet from the first boar. By that time, they were running in through the bales like they know to hide behind them. Whatever.... I still dumped the whole mag of 12 more rounds, and missed a few more that were reasonable shots...but....I'm laughing at this point
<-- that little animation you see is "adrenaline man." WHEW.
Here they are, DRT within a few steps of each other. The gear is:

PT -alpha helmet from TNVC. HELGA with the Wild River Ranch deliverance camo stock and TAM-14 on the side, D-740 on the top, both optics from TNVC. D-740 on the Cardinal Armory 12.5" barrel, with Troy TRX extreme HG. That night, I was using my JET .30 cal suppressor. ITT, PVS-14 on the helmet.

The last pig of the hunt was probably the most satisfying. On the way back in, I stumbled upon a black blob in a corn field,. I put the Thermal on it. Meh, it looked like a calf. I started towards him, and he bolted (which calves don't do), so I did the "wahoo," which is to punch the accelerator, and with helmet mounted PVS 14, I ran the truck, with no lights on, to the side of the field until I was parallel to him. For some reason, they will often just stop.....he did. So, I immediately put the gun up, and turned the D-740 on. Man, he looked far. I had to look twice to make sure he wasn't a calf. He was huge...but, after looking a few times, I was sure. Ok, so, I thought, if you are going to test stuff, sometimes you have to take long shots....they are just pigs......Pop....down he goes!!! Wow! This time, I was shooting the SSA factory 85 grain TSX, Tactical Load. Does everyone see now, why we wanted to beef up the 6.8 to the fastest loads we could possibly produce?? This is why. This pig is probably 300-350 lbs. Look at how he dwarfs the gun. The tusks were 4 inches long. Can anyone guess where he was hit? The hole is right through both shoulder blades....again. I measured the distance when I walked out to take the pictures of him....207 yards, paced off twice!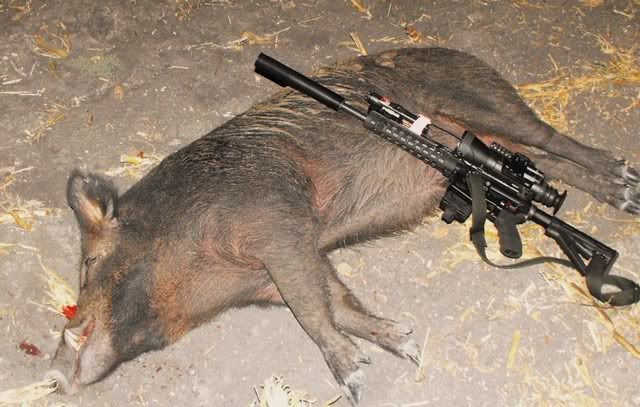 The entrance wound: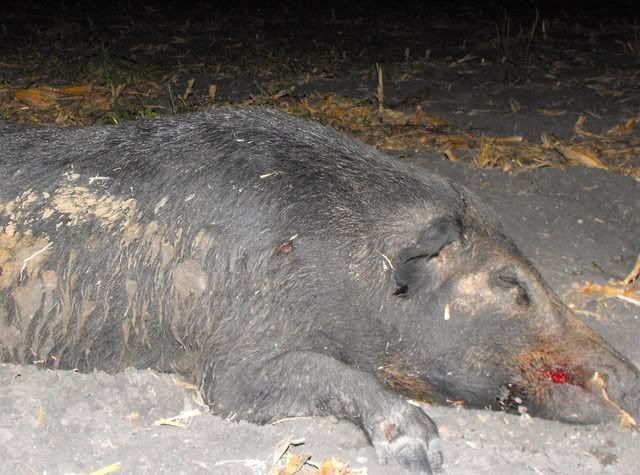 special thanks goes to :

- my neighbors for letting me hunt their property

-JET suppressors

-TNVC

- Silver State Armory

- Barnes Bullets

- Troy Mfg. (though they forgot the sling aperture, the TRX extreme is still becoming a favorite of mine with the wt. of NVD's and suppressors)

- Blue Force Gear (I finally found a way to mount a sling to the TRX extreme....the wire loop )

- Nivisys ( makers of the TAM-14)

- GS Custom bullets

- Alliant Powder ( I love the "RelOder" 7 and 10 X powders for 6.8...especially with Barnes bullets)
www.wildriverranchtexas.com