I'm hoping this can be included in the bullet
info gathering threads
. As per all the others, no questions or commentary; start another thread if you need to. Please just post the facts or your experience with the bullets. How they performed on game, the accuracy of the bullet, load data, etc...
If you don't have any experience please let those that do have experience provide the info for others to learn from.
~~~~~~~~~~~~~~~~~~~~~~~~~~~~~~~~~~~~~~~~~~~
As of this posting, these only appear to be available as pulls via Rockey Mountain Reloading which is run by longdayjake on this forum. There is very little info regarding these bullets including what they were being loaded in or for. Jake's only comment on them so far has been
... They are .2765 in diameter... Most everything we get comes from the Federal plant in Lewiston.
In an effort to get some info coming in I purchased 500 with the intention of splitting them up with some other members and doing some testing.
For starters I took a random sample of 51 pieces and measured weight, diameter, and length.

Weight
Low- 74.38
High- 76.04
Ave- 75.31

Diameter
Low- .2740
High- .2760
Ave- .2749

Length
Low- .7555
High- .7720
Ave- .7638
Here's why I ended up doing 51; there was an outlier, which could be the reason they were pulled. On bullet #42 I got a short/light one that I excluded from the measurements above. It weighted 67.08 grains and was only .6920" long, with the diameter right at .2750". Visually you'd never notice it and loading it would probably be fine as pressure should be reduced with it, but still, something to consider.
Here's a photo of how they look right out of the package.
And then how they look after an acetone bath and tumbling with walnut media and polish.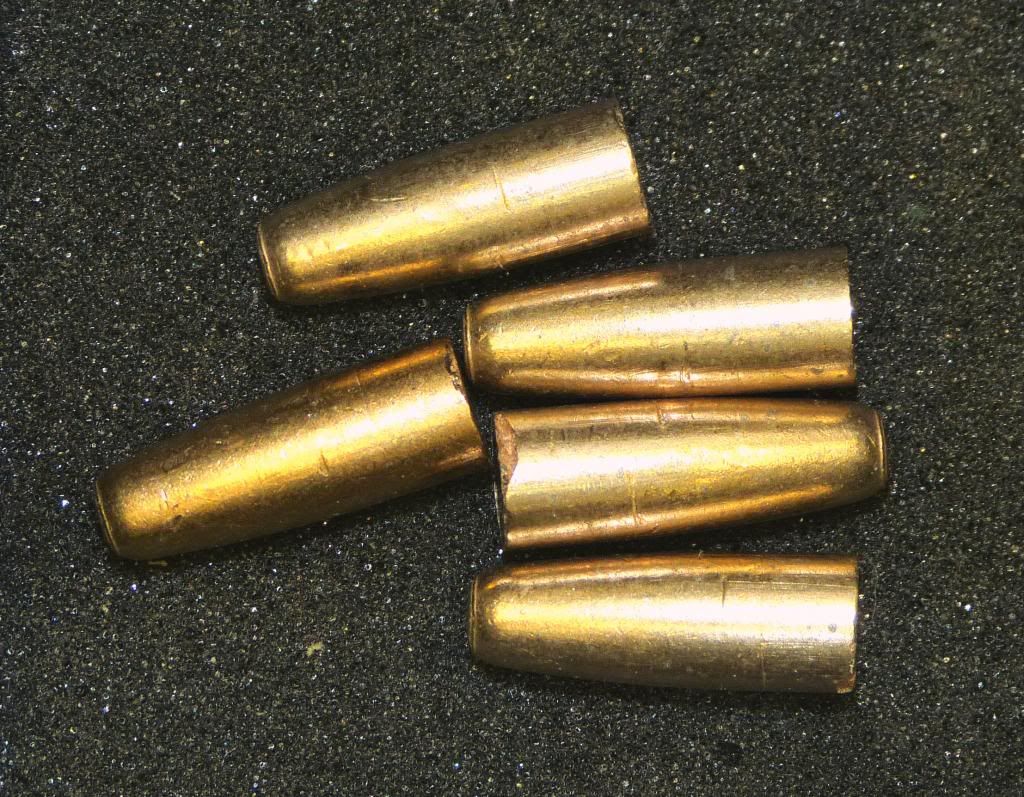 In both of the above photos you can see very minor pull marks, and some exhibit broken edges on the bases. It's very possible that the bases could play into long range accuracy issues, but I just don't see these being used in that capacity anyway.
Next up is a bullet crushed lengthwise in a vice to show their frangible composition. I'm by no means a metallurgist, but they're appear to be some sort of a copper matrix with perhaps tin? Regardless, they appear pretty typical of other frangible rounds that I've seen.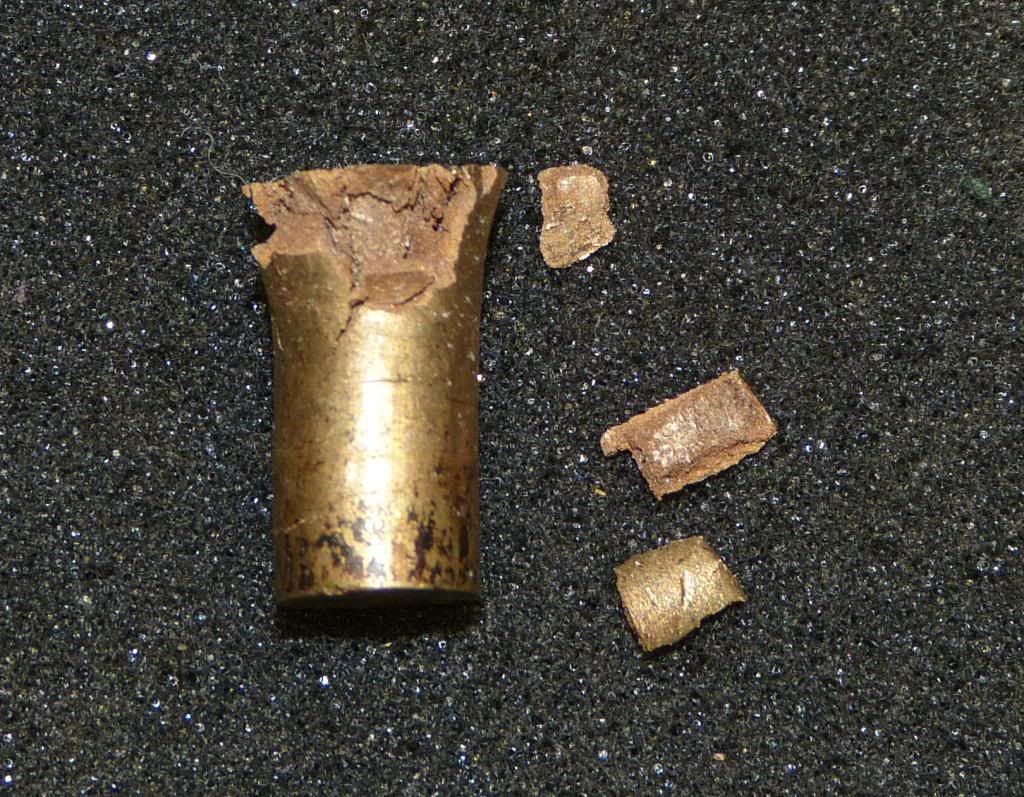 Here's a cross section, although its a bit deceiving as it makes it look like a traditional solid copper in the way it polishes. The top left and bottom right flaws are from my cutting and polishing and can not be attributed to the bullet itself.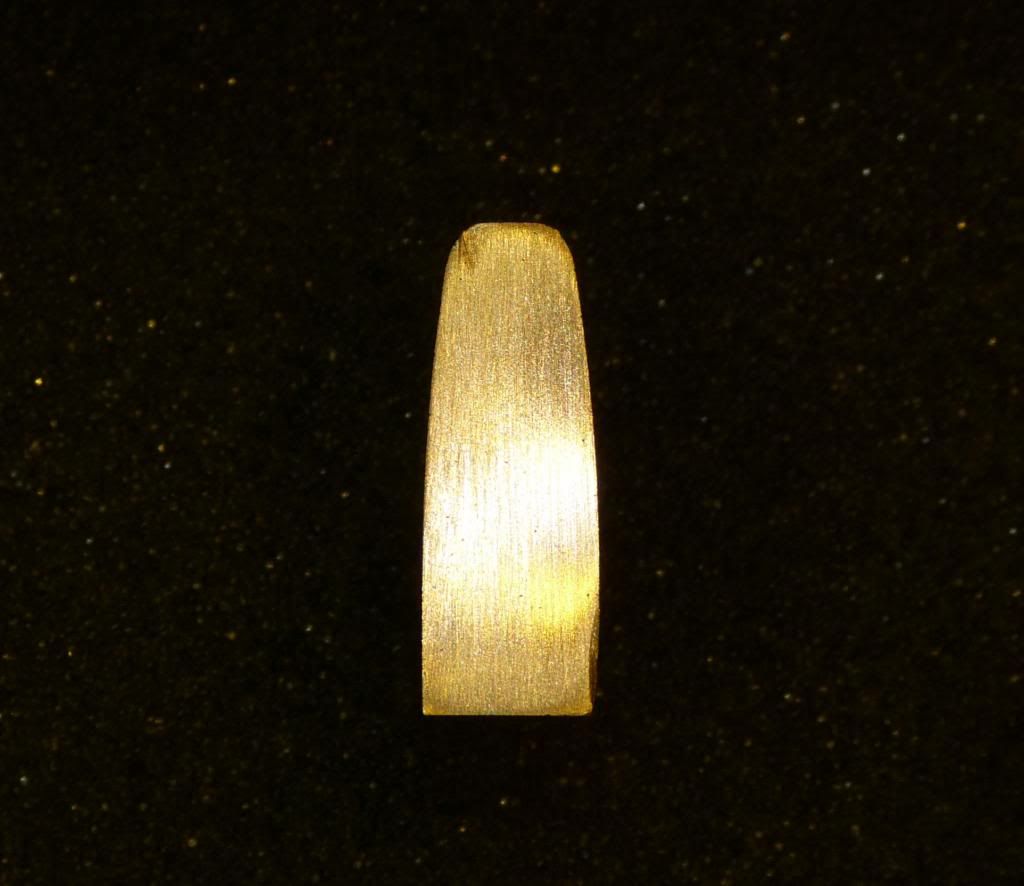 Here's a comparison for shape and lengths based on some other .277 diameter bullets I had close at hand.
From left to right: 75gr Frangible, 82gr Raptor, 90gr Sierra HP, 90gr Gold Dot, 110gr VMax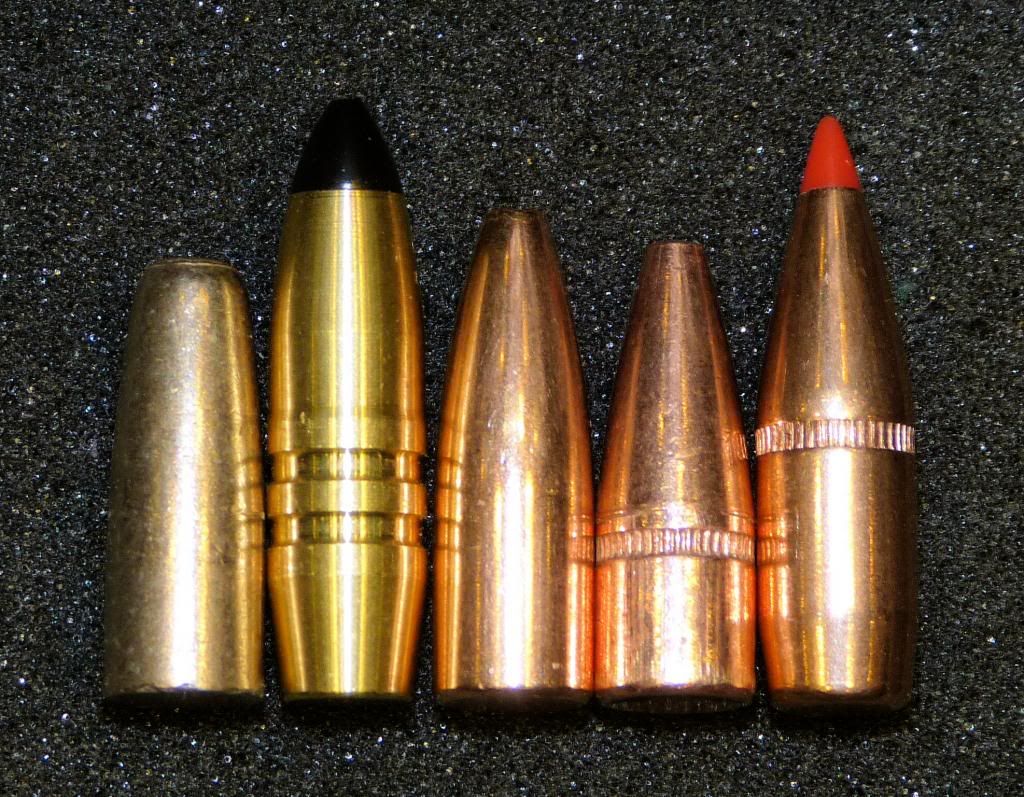 Load testing from me will be coming in a couple of weeks and I'll be starting with Rel7 from a 20" Bison barrel with intermediate length gas system.
Stay tuned for more.