I decided to give these pills a try since they are so cheap and must say I've been pleasantly surprised thus far. At first, I bought them for cheap plinkers, but now I'm considering switching over to them as my primary hunting round.
They are advertised as 130 grain "fused" soft points, but that's not really an accurate description as they average 128 grains and are definitely not "fused." That said, I think they are going to be a very viable option for the 6.8. First of all, they are a fairly short bullet, measuring an avg of 1.005in. Here's a picture of one standing next to a Hdy 120SST(1.122"):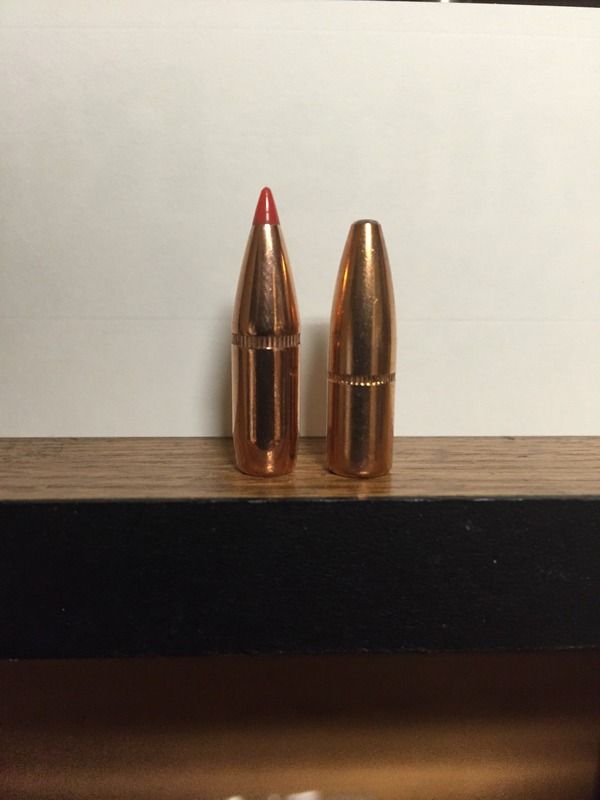 I can't figure out the manufacturer of the pill based on appearance as they don't match any other common 130SPs in .277. The appearance is much like a 130 Remington CL, but the base is a bit more rounded like a Pro Hunter or Hot Core. The point is much like a protected point similar to the CL or Fusion vs common soft points with exposed lead. The jacket is similar to a PH or HC and has decent thickness measuring .025" from base to tip.
Here's a cross section displaying the jacket: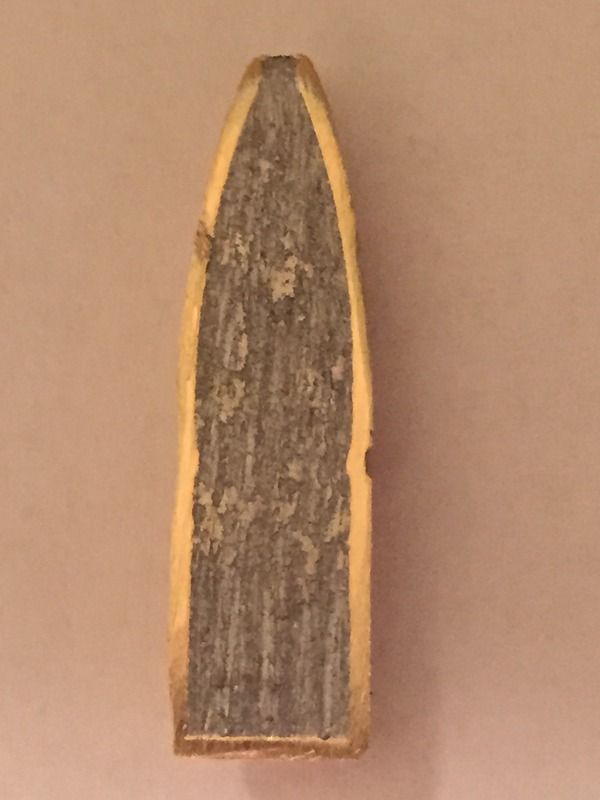 Here's a shot of the core removed from the jacket showing they are not "fused" or bonded: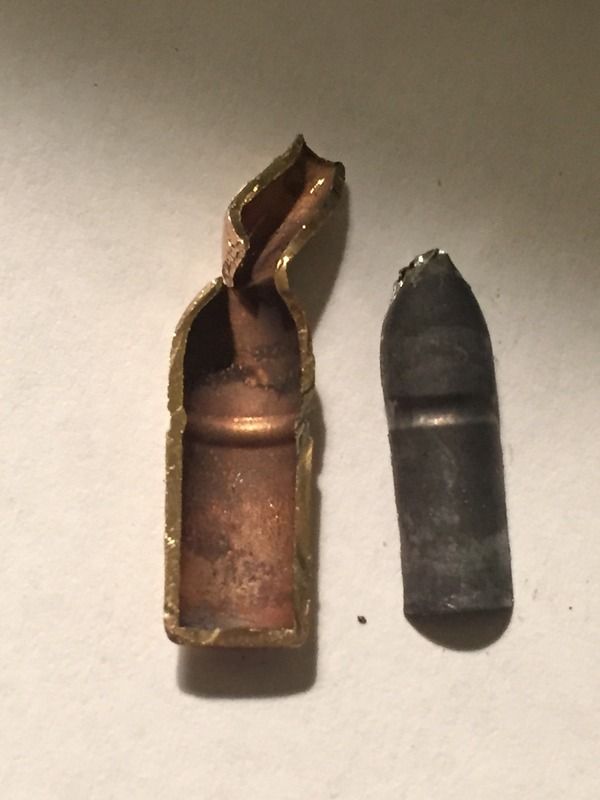 They come in a quantity of 500 and are fairly clean from the start, but do have a bit of scratching from being pulled. I've purchased a quantity of 2,000 thus far during the past couple of sales AR has put on and ended up in them for approx. $8.40/100. Total cost per box of 20 loaded rounds is only running around $7 using AR's demilled virgin primed Federal cases, so you can see the appeal for a low cost round.
After only 30min in SS media, they come out looking brand new. Some have pull marks, but they are minor and shouldn't effect performance: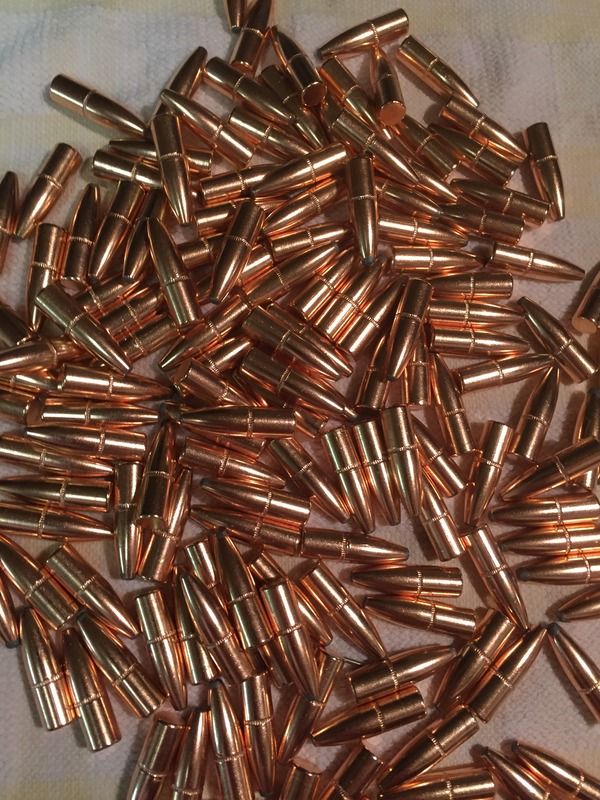 The cannelures are mostly in the same place as well: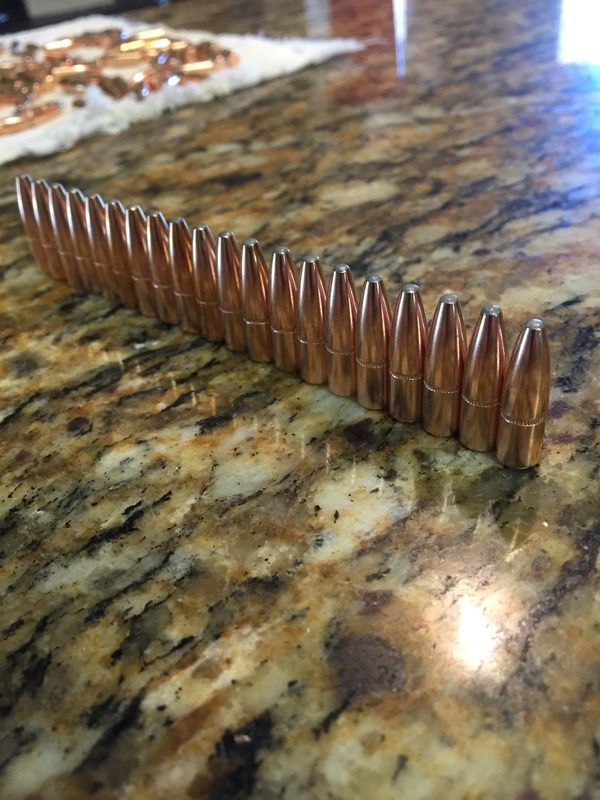 Now comes the very surprising part. I ran a quick and dirty ladder with 4 powders to find pressure and the MVs were quite a bit higher than what I'm seeing with 120SSTs in this particular barrel. I'm using new Federal cases that are primed with Federal AR primers and have a HS of .007. These cases have commonly shown me pressure signs sooner than that of fire formed cases or SSA, yet I'm seeing very nice MV without common signs. My take on these results is simply due to the fact that they are a short bullet, weigh in at 128grn, and rob much less case capacity than the 120SST. When seated to 2.295 to fit ASC mags, the cans are just ahead of the mouth and the base is close to the neck/shoulder junction. Unlike 120SSTs where the base extends much further past that junction and robs more capacity. With 120 SSTs it hasn't mattered what powder I've tried, this barrel starts to show pressure at 2500-2550 depending on the powder.
Here's a shot of them seated at an oal of 2.295":
Here are the results of my first range session to find pressure. I plan to fine tune and chase accuracy on my next session.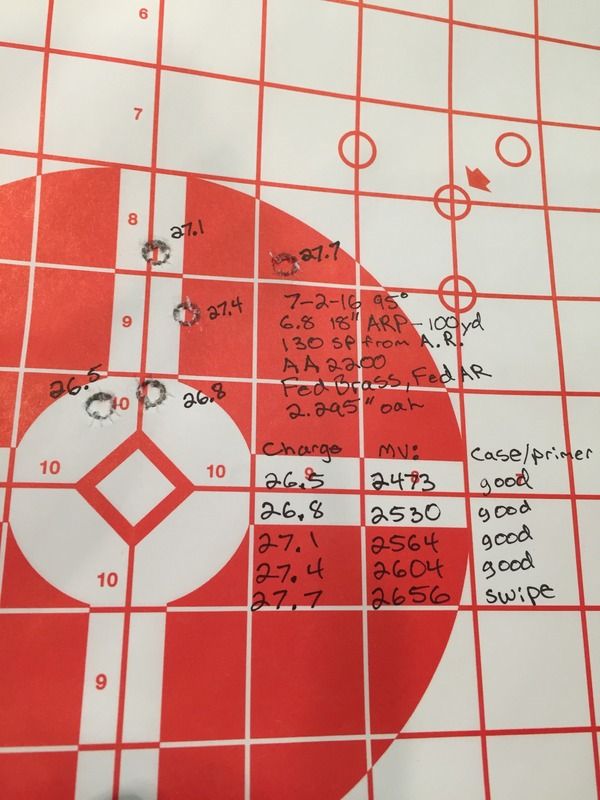 FWIW the chrono was reading spot on with my pet loads with 120SSTs as well as 556 from two other rifles that were rotated in as the 6.8 cooled between groups. I had my block set for 120SSTs and 26.7g 10x in Hdy brass and it seemed to be an ok setting for these rounds.
One of the reasons I'm considering switching over from SSTs is the fact that most 130 grain flat base SPs have BCs from .408-.432+, so giving a WAG of an approx. .400 BC for these and the fact that 2600fps is not showing any pressure signs in virgin cases with a .007HS, these should flat beat the 120SST/2550fps loads I'm currently running for 300ish yard game shots. The deciding factor will be performance, I plan to test them on water jugs and wet print to see how they stack up to the performance of the SST. I have a hunch that they'll be a bit tougher, I just hope they're not too tough.
BTW, these pills are on sale for $42.79/500 delivered today.
Have a nice day,
loder