Farmer called me on Monday morning to tell me that he was plowing the corn field up and should be done by Tuesday night. Crop was a loss so it had to be destroyed.
I get there Tuesday a little early to take some pics and test a new ballistic/ranging app. As I am getting a wind sample with the new app I look over and a medium size hog is headed towards me. It was still daylight so I had to be careful on getting my rifle out of the truck. I turn on the LWTS and nothing, batteries were dead. I then carefully pulled it off and rested the rifle on the truck mirror. 1 shot hog goes down 65 yards in front of my truck. Ended up being a 170lbs boar.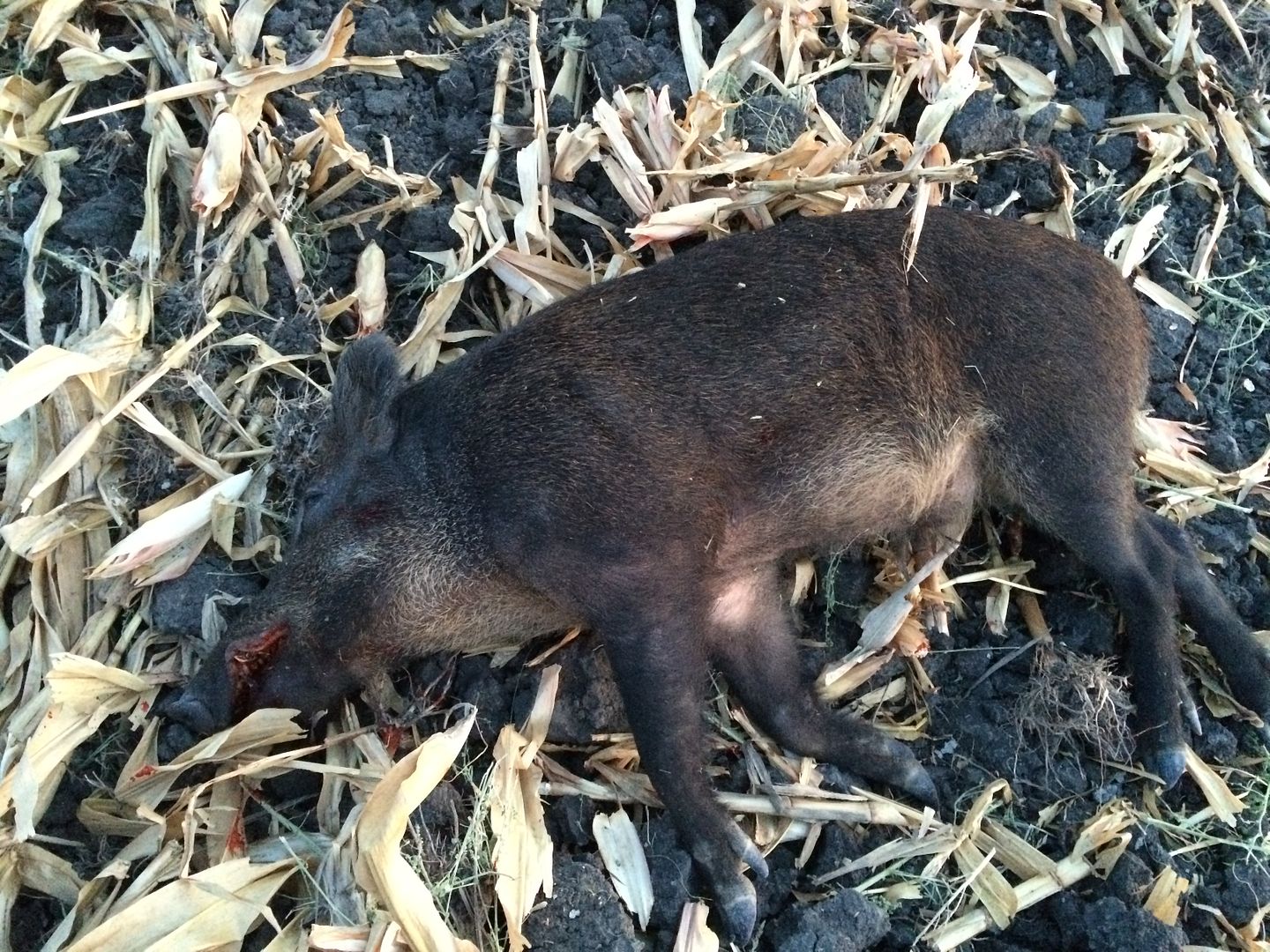 Hunted the rest of the night and bagged 4 more, 3 boars and 1 sow all in the 170 lbs to 190 pound range. They were all 2 far apart to drag together for a pic.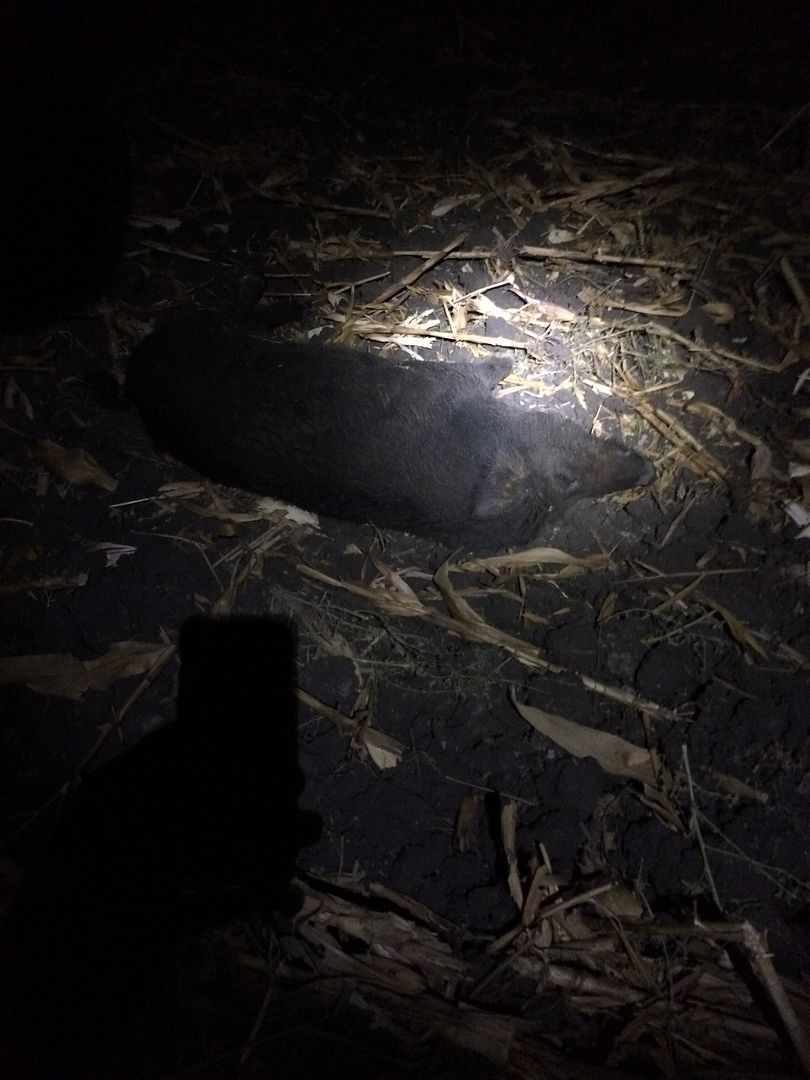 So then Thursday night I go back out there. I have a buddy of mine that wanted some of the meat so he offered to come hangout. I see him pull in the front gate with the W-1000 as I am scanning the field. He is about half way to me when I spot 2 large hogs. I call him real quick as I am grabbing my rifle and tell him to stop and don't turn the truck off, just sit there. I make the 500 yard stalk to them and 2 shots=2 hogs down. I called my field and told him to come to my flashlight. We loaded them up and he went to cut'n up. I had him laughing at my pig drive through/to go talk. He thought I only got 1 because he only heard 2 pops. I asked him he it was a bang, pop or a smack. He said it was 2 smacks. I told him that all he heard was the impact on the pigs. Advantages to shooting suppressed.
At 5am I was getting ready to pack it up when I saw a sounder of 10-12. Made the stalk out to them and decided to take what seemed to be the alpha out. pulled the trigger and pig hit the ground, second target "click". Tap, rack, bank and hit but pig still going. Pulled the trigger "click". At this point I realize I am having cycling issues so I go into to single shot mode. Rack a round and 2nd pig drops, rack a round and miss, rack a round and 3rd goes down, rack a round and hit one as they are getting into the woods. Did not recover the last one. I recently put an adjustable gas block on the rifle and it ran flawless and the range for 60 rounds but guess I had it set to low. It know has some carbon build up on everything after the range and hunting so I will be bumping it up 1 more notch.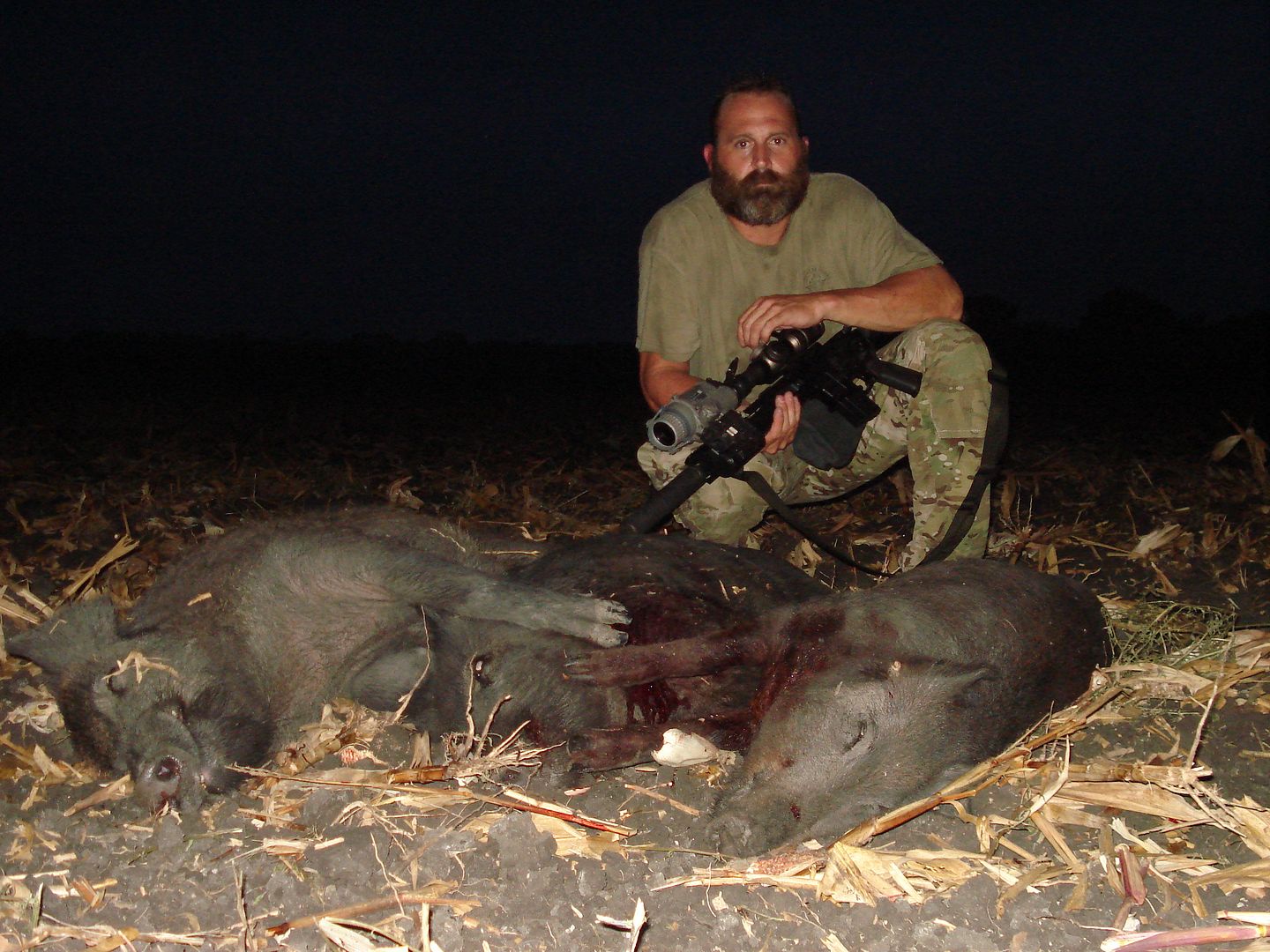 All in all it has been a good week and I am planning on taking the woman tonight. The friend of mine ended up getting about 100 lbs of meat and 10 less pigs destroying land/crops. Win Win!!!!